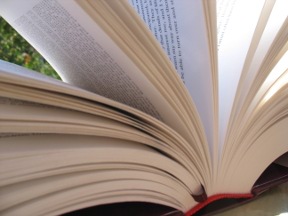 Readers Wanted:
Imaginary job-postings for books: would you be happily Buried In their Print? (These snippets also make appearances on my GoodReads and LibraryThing notes.)
Reading Companions: 
Just finished Pauline Holdstock's Into the Heart of the Country and crave something like-it but not-like-it? I've been deliberately reading in bunches since 2003. You, too, can be Buried In more Print.
MRE Authors:
Must-Read-Everything they've written: cuz not much is better than being Buried In that Print.
Currently MREing Alice Munro one story after the next, starting here.
Spelling It Out:
From Favourite Authors. (Like this one.) To Obsessive prize-listing and literary festival reading.
Maybe I'm actually Buried In Letters?!
Friday Fugues:
Variations on a theme, like an extended visit with reading companions: 2010 saw a chunk of Fridays (beginning in May and stretching through September) devoted to Bookish Books, and 2011 sees a series of Fridays (beginning in September and stretching through December) to Epistolary Works.
To Tell the Truth:
Mostly I'm Buried In Fiction, but this feature (launched December 2010) follows my fledgling enthusiam for being Buried In Non-fiction Print.
B.I.P.'s Snips:
In which I shorten the bookchat and lengthen the reading time (launched June 2011) , so that I can be Buried In even more Print.
Drawing Conclusions
Focusing on graphic works, which I also sometimes include with other bookchat. An early example resides here.
Now Underway, but not online: Reading at Random. Coming soon!